Hopkinton Town Band - Live and On Fire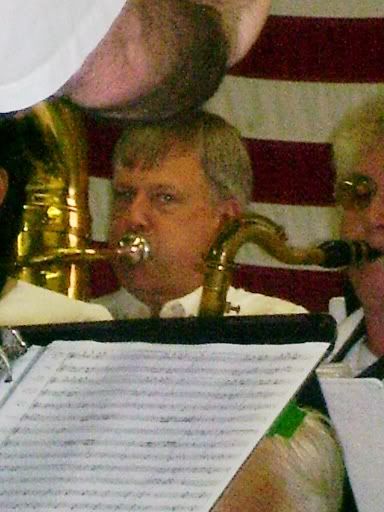 Lest you think the American Idols have the only white-hot summer tour this season, I'm sharing a few pics my sister took at this weekend's Hopkinton Town Band concert. We played the Beech Hill Farm Ice Cream shop, a large farm/nursery/ice cream place in Hopkinton. Specifically we performed in a large barn that was outfitted with pews. The audience of 30 or so screaming fans (they're crazed i tell ya - I hear they were lining up the night before for the best pew) sat in the pews and we played at the front of the barn with goats maaaa-ing just outside. Although I felt it was one of our duller summer programs (we have 6 unique set lists for our summer concert series - i would've preferred playing the one with the rockin "Grease" medley for my sister's visit but hey) we were in good form and our fearless leader Earl laid out the perfect balance of sentiment and humor in his em-ceeing for the mostly age 60+ audience. When we did the "Armed Forces Salute," a medley of songs representing each branch of the military, Earl introduced the song with some heartfelt words of gratitute for those who serve and told everyone to stand up during the appropriate melody if you or a loved one is or was in that branch of the military. As audience members began popping up during the piece I found myself growing increasingly ferklempt and when our very own "Dave" (the only man in the clarinet section not named Jim) stood up during "Anchors Aweigh" - right there on stage while playing in the middle of the piece - I actually had to put my flute down for a moment to wipe the snot and tears off my face. (Note the standing instrumentalist in the picture above left is NOT Dave the clarinetist and Navy veteran but rather Darlene on alto sax, who I've featured before here at Idol Amusement - in this pic Darlene's standing not because she served in the military but because she is playing the rousing solo on "Yakety Sax" an arrangement of the Benny Hill theme). Good times as always with the Hopkinton Town Band and the best part was we were payed in ice cream (as opposed to our usual $5 per concert) -- so after the gig we went to the ice-cream shop building and got to order anything we wanted. We all stood around in our band uniforms chuffing over delicious ice cream and then disbanded (ha) for the nonce (we'll meet again in a few days for a bandstand engagement and I believe this upcoming concert features one of our livelier set lists). Anyway, in the spirit of reporting on hot summer concert series, I thought I'd share.... And I'll remind the local folk that we'll be playing downtown Goffstown on August 10th and Jim (that would be my Jim who is the third of the clarinet playing Jims) already established with Earl that we'd be playing what Jim and I both feel is our rockingest set.

More pics to follow in a separate post 'cause I don't know how to put any more in this one....